An ultimate guide to packing for trips
Packing is hard. Predicting what you'll most want to wear, what weather will permit you to wear, or what you'll actually need on trip is challenging. Here are Pina's packing tips!
Use a backpack over a rolling suitcase.

This is definitely a subjective choice which will depend on where one is traveling, and their travel style. I do a lot of public transport and walking, and so for me, a backpack is far more convenient.

Never check luggage.

This limits the amount of luggage you can bring on the trip, saves you fees, and means you can skip right out of the airport when you land! But again - this is subjective.

Pack light.

While traveling in Asia I fell into the habit of leaving a piece of clothing behind in every hostel I stayed in. Over time, the idea of light luggage became progressively more and more appealing, and I fell into the habit of wearing the same core outfits over and over. Packing light isn't everyone's preference, but I have found major benefits to it. It eases your transport days!
Since I was nineteen, I have backpacked using my Mom's old pack. She traveled across south Asia with this pack in the 1980s, and so it has sentimental meaning to me. To date, I have traveled to over 35 countries with her pack! My upcoming trip is to Jordan (Middle East). Read on to see how I am packing for this 10 day adventure. Want to know more about how I plan my trips? You can read all about it, here.
Packing cubes are my favourite packing hack! I bought my current set off Amazon for less than 25 CAD. In this cube I have packed all my clothing for the trip: 1 pair of jeans, 1 skirt, 1 sweater, 1 light down jacket, 2 t-shirts and 3 long sleeve.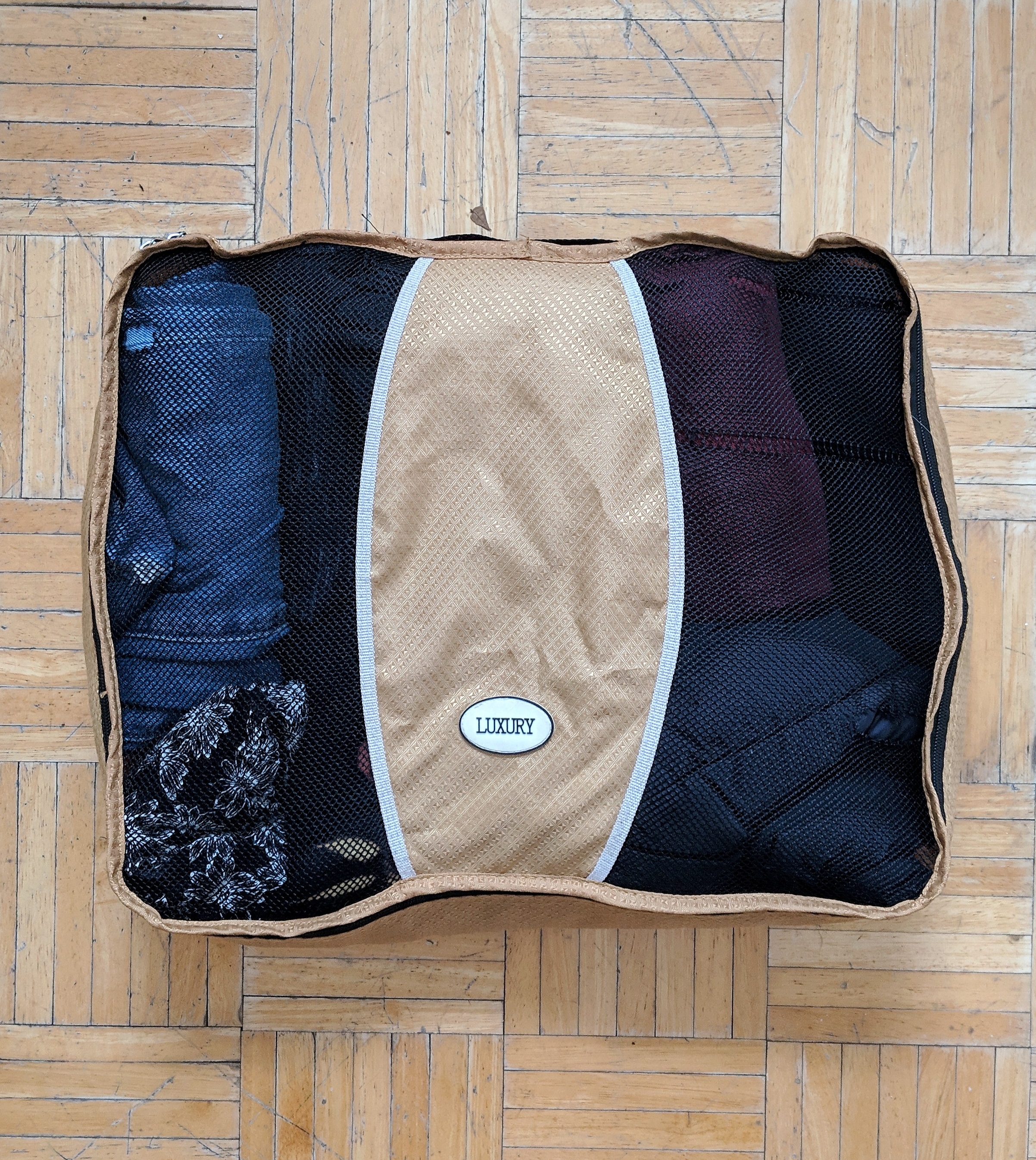 Packing cubes keep your things organized within your pack, which is especially useful for longer trips. I have three packing cubes of different sizes. For this trip, I am only using the largest cube.
Because I don't check luggage, I minimize my toiletries by only bringing minis. I always make sure to bring hydration tablets or salts (just in case!) and I love to bring solid shampoo - my favourite is from LUSH. I throw everything into a recycled linen Aesop bag from a previous purchase.
I carry all my essentials in a small daypack. Here, I have packed my partner and I's Jordan passes, my sunglasses, passport, 2 small locks, plug converts, and earplugs and an eyemask.
The cube containing all of my clothing goes in the bottom. On top I've thrown my book, and bag of toiletries. In the top of the pack you can see my extra shoes, medical kit, and large camera bag - a Nikon D90 and 2 lenses.
My pack is about 50 litres, and I find this the perfect size. It is small enough to bring as a carry-on, but big enough to carry the essentials. I have traveled over 35 countries with this pack - everything from 10 day trips to 8 months!
On the plane I am all about comfort. I wear thermal leggings, a turtle neck and fuzzy zip up sweater - all from Uniqlo. I wear my hiking boots, a fanny pack/ bum bag, and my small day pack of essentials.