A skeptic's budget guide to Thailand
I was in Asia three months before Thailand crossed my radar, because I was a budget-oriented, Thailand skeptic.
Truthfully, I had been putting off Thailand for several reasons. I'm allergic to peanuts, so, I can't risk pad thai. The islands were allegedly crowded and drinking oriented. Not really my scene. Backpackers told me it was expensive by South-East Asian standards. My "Asia brain" couldn't grapple with the prices of hostels. Moreover, there wasn't anything in particular that I wished to see in Thailand. Yes, I was a definite Thailand skeptic. But Thailand's reputation as a country overwrought with tourists is justified. It is known as a haven for budget backpackers, but congruently for luxury travelers. Thailand is one of the more developed countries in the region, and its economy has benefited greatly from recent influxes in tourism. For context, in 2017, Thailand hosted 32 million foreign visitors. There are downsides to this influx. Sex tourism, animal tourism, and litter have created social hurdles for the Thai. In 2017, the idyllic island of Koh Tachai was closed indefinitely due to the severe deterioration of the island's ecosystem. A direct result of over-tourism.
All this aside, my partner and I were exiting Myanmar, and the cheapest flight out was to Bangkok, and from there we were meant to fly to India. With two weeks to spare before India, spending time in Thailand made sense. So we swore to a budget, booked some grungy hostels, and vowed to eat only street food. In the end we had a splendid time. We enjoyed floating in the warmest blue waters, diving to look at starfish. We explored the strange medical museum of Bangkok and enjoyed an infamous Thai "bucket." Zipping from island to island by fisherman's boat was thrilling, exploring night markets, and gazing at the mountains of the North was priceless. So, here is your skeptic's budget guide to backpacking Thailand.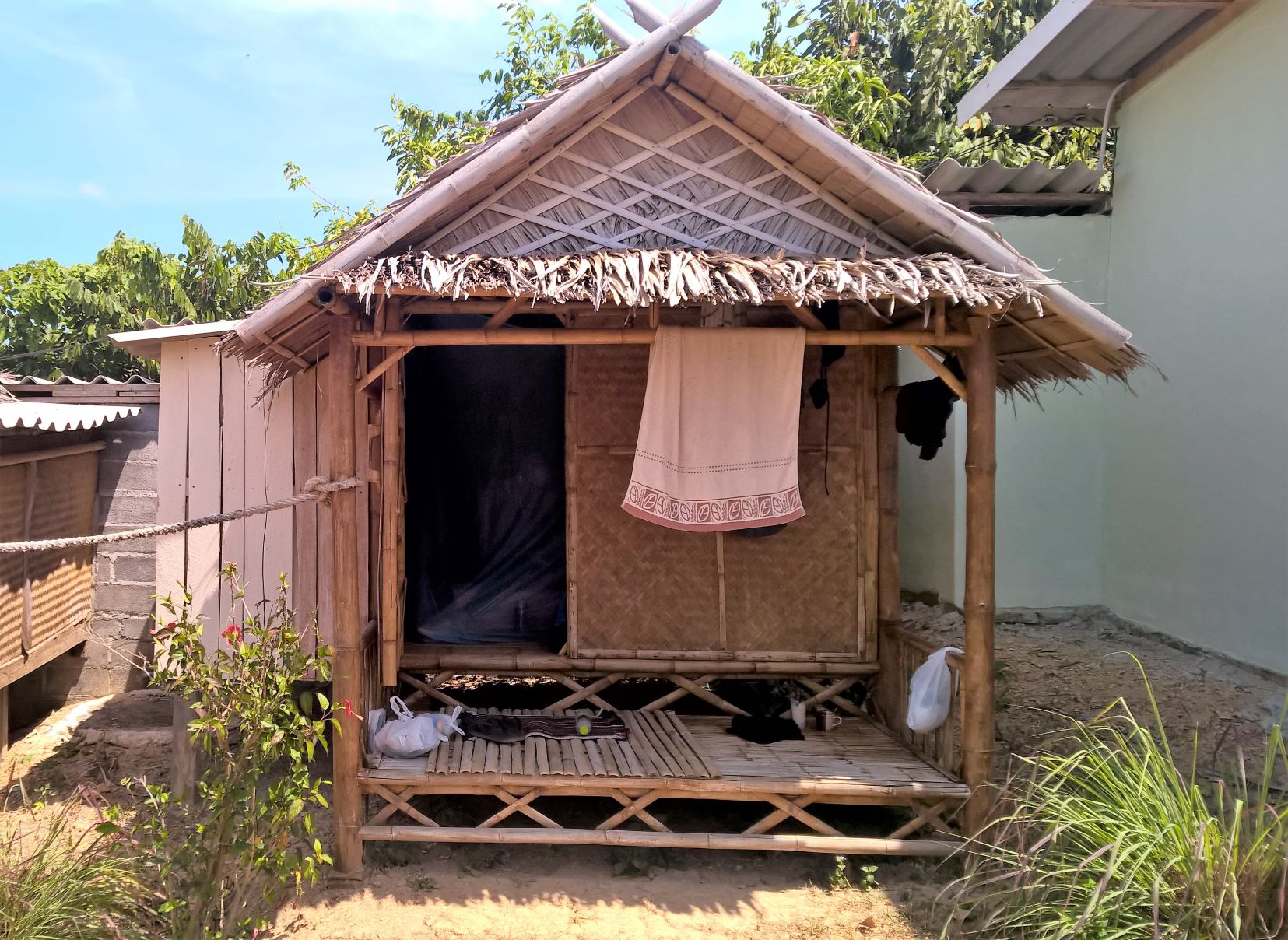 Hostelworld and Agoda are your friends.
Of course the best budget rates you'll get in Thailand will be in hostels. Head over to the Hostelworld site, throw in your dates, and be sure to hit "price" under the sorting tab. Average rates for hotels (currently) are around 15 CAD, but if you sort, you'll find many hostels that offer budget beds for 5 to 6 CAD. These savings add up quick, and, in my experience, the cheap hostels are typically totally fine. You might just be sleeping on a mattress on the floor, but hey, it's a bed! My tactic is to pick a price-range, and then select a hostel based on location, safety, and reviews. Another trick is to email the hostel directly to book rather than through Hostelworld - this will save you booking fees. Agoda is another fantastic resource. This hotel-booking site is popular in Asia, especially for lower-budget options. We used Agoda to book ourselves budget beach huts in the Thai islands. Be warned: if you're going low budget, don't expect air conditioning.
The islands are a definite attraction for travelers headed to Thailand, and for good reason. There are many of them, and they are gorgeous. But, it can be difficult to decide which island is right for you. Our island selection was based on energy and price. We wanted a quiet, uncrowded island experience that wouldn't break the bank. After much research we settled on Koh Lanta, and Koh Jum. These islands are not considered the most beautiful of the Thai islands, and are therefore more budget friendly. On Koh Lanta we stayed in a small inland hut and rented a scooter to drive the entire island, making stops along the way at beautiful, secluded beaches. On Koh Jum, we were dropped off at a budget priced "resort" - a collection of beach huts, with restaurant service. Our experience on Koh Jum was even more secluded … We enjoyed entire beaches to ourselves. Your island selection will depend on what kind of experience you would like. If your goal is quiet and budget-friendly, I recommend these two. There are bars a plenty on both islands, so if you'd like to mix in some nightlife, you can!
Heads up: Most islands charge an "island fee" on arrival, and ferry prices between islands can be expensive.
Street food, water dispensers and 7-Eleven.
You can always save your budget on food! Here's how. Your hacks in Thailand boil down to street food, markets, and 7-Eleven. Street food, and meals served in markets, are typically around 1 CAD. This will range from noodle dishes to sandwiches and fried food. Hot food is always your best bet to avoid food poisoning! While my partner filled up daily on street-made pad thai, I stuck with 7-Eleven, a safer budget option given my peanut allergy. And let me tell you, 7-Eleven in Thailand is full of delectable options for us nut-allergy sufferers. I enjoyed rice dishes, pasta, and even chocolate cake, for a budget-friendly price. An honorable mention goes to their grilled cheese sandwiches. They are perfection. To supplement (and in an attempt to remain healthy) I often bought fruit from street vendors, typically opting for bananas.
Water is an essential cost, and luckily there are budget options in Thailand beyond the wasteful store-bought water bottle. While I met many backpackers who drank tap water (seriously!) with no problems, I stuck with buying filtered water from water dispensing machines. These coin operated machines will not have English written on them, but they are plentiful and easily recognizable for their one function: dispensing water. One or two baht (a couple cents) will easily fill a large water bottle. Although I have read some disputes over whether or not this water is truly safe to drink, from my experience, it was.
Hot tip: If you get bored of 7-Eleven, worry not. There are a plethora of other convenience stores to buy your budget meals from, for example, Family Mart.
Thailand has many modes of transport. Tuk tuks tend to be the obvious choice for budget tourists, but are actually the most expensive. In Bangkok, we found that flagging a regular cab often turned out cheaper, especially if you can have the driver agree to use the meter. If you are a great haggler, try haggling for a ride with a scooter driver. Especially if you are traveling solo, this is a quick, and economical way to get around. Sometimes a scooter driver will agree to take two of you on the back of his bike. Crowded! But fun. Whenever we could, my partner and I rented a scooter to drive ourselves. This saves you bartering for rides and gives you the freedom to go wherever you want, when you want.
For longer haul travel, your budget option will always be the local busses. Opting for night busses can lessen the pain of a long trip, especially when the busses have sleeper seats that recline. If you develop Asia brain like me, just wait until the lights are out and go to sleep on the floor of the bus!
If You Go to Thailand (On a Budget)
From our experience, the typical locations on the mainland to visit are: Bangkok, Ayutthaya, Sukhothai, Chiang Rai, Pai, Chiang Mai, Surat Thani, Krabi.

When visiting the Islands, keep in mind that there are the islands of the Gulf Coast (east) and those of the Andaman Sea (west). In the interest of time, we stuck to the west. Access to the Andaman islands is via Krabi town. Remember that the popular islands are less budget friendly.

Many opt to buy a prepaid SIM card in Thailand because they are very affordable. That said, WiFi was abundant and free throughout Thailand. If you can handle moments of disconnection, there's another way to save on your budget.

We don't typically book accomodations well in advance, but if you are headed to the islands it is recommended to do so. High tourist traffic means low availability, and booking last minute can be disastrous for your budget.

If you intend to visit elephants, do your research. While I opted out of this activity, I have read and learned from other travelers that these three have good reputations: Elephant Nature Park (Chiang Mai), Boon Lott's Elephant Sanctuary (Baan Tuel, north of Bangkok), Wildlife Friends Foundation Thailand (Hua Hin, 2 hours north of Bangkok). Budget options for visiting animals are sketchy. If the price is too good to be true, it is fair to assume there may be abuse of animals in the mix.